2014 Short Story Contest

Details for the 2014 Short Story Contest are below. If you have questions, please contact us at 828-277-0998 or
info@gratefulsteps.org
.

Stay updated by signing up for our newsletter on the home page and by following us on
Twitter
and
Facebook
.

The entry fee is $30. Payment may be made via Paypal using the button below or by check made out to Grateful Steps Foundation and mailed to:

159 S. Lexington Ave.
Asheville,NC 28801

Payment should include the entrant's name and the title of his or her story. Please be sure to provide that information when paying via Paypal as well.


2013 Short Story Contest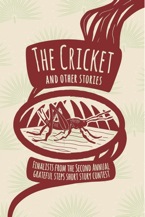 1st Place:
The Cricket
Joe Sallazo*
2nd Place:
Just My Imagination
Holly Simms
The rest of the top ten entries are below in
alphabetical
order by the author's last name. Actually, there were eleven winners because there was a tie for one of the places.

Transforming the Reign of Terror
Patricia Lynn Collins*
On Top of the World at 200' Below
Sam Conviser
Doorways
Robin Russell Gaiser*
The Empty Books
Gail Heller
"Just Another Nigger"
Harold Littleton
Lighten the Load
Marci Spencer*
Moon Boy
Spencer Stevens
House
Robert Tate*
Seventy-Two
Evan Williams


2012 Short Story Contest

Click on the link below to download the 2012 Short Story book.


Drowning Allison and Other Short Stories
Drowning Allison and Other Short Stories (Kindle Version
)