2014 Short Story Contest.


The top seven entries have been forwarded to the judge, Laura Hope-Gill, to select the winner. All the top entries will be included in a hardcopy paperback anthology and e-book. The award ceremony will be announced once the date is set. It will be held at Grateful Steps Bookshop, 159 S. Lexington Avenue, in downtown Asheville.
2013 Short Story Contest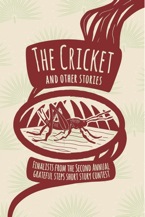 1st Place:
The Cricket
Joe Sallazo*
2nd Place:
Just My Imagination
Holly Simms
The rest of the top ten entries are below in
alphabetical
order by the author's last name. Actually, there were eleven winners because there was a tie for one of the places.

Transforming the Reign of Terror
Patricia Lynn Collins*
On Top of the World at 200' Below
Sam Conviser
Doorways
Robin Russell Gaiser*
The Empty Books
Gail Heller
"Just Another Nigger"
Harold Littleton
Lighten the Load
Marci Spencer*
Moon Boy
Spencer Stevens
House
Robert Tate*
Seventy-Two
Evan Williams


2012 Short Story Contest

Click on the link below to download the 2012 Short Story book.


Drowning Allison and Other Short Stories
Drowning Allison and Other Short Stories (Kindle Version
)